Small initiatives bring lots of joy to local communities
We influence society in many ways: In Nokia, we are one of the major employers. In Russia, we built housing for our personnel. We pay taxes that support the well-being of people in several countries. We are also actively involved in making road traffic safer. We believe that even small actions matter and, in 2017, we carried out many initiatives with our personnel.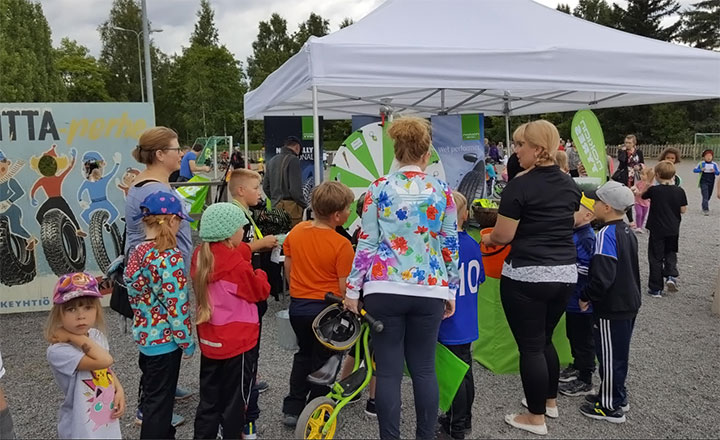 In Nokia, we helped children in need in the Tampere Region through our collaboration with the Tampereen Hope ry association. Nokian Tyres donated business gifts for Hope to sell, and our employees had the opportunity to buy products. In a 2017 initiative, we raised nearly EUR 5,500 for the association to buy, among other things, food vouchers for Christmas for families in need. Our employees have also spread joy by raising money for new school bags and supplies at the start of the school term and donating Christmas presents to children through the Hope association.
In Russia, our employees made a difference by purchasing gifts that a charity organisation delivered to lonely, elderly people in need. We have also started to organise a clothes collection drive twice per year. Some of the clothes are sold through Kiitos charity shops and some are delivered directly to people in need. Worn out clothes are sent for recycling. In the 2017 campaign, our employees collected some 200 kg of clothes. They were donated to Kiitos charity shops, and the money went to helping homeless people in St. Petersburg. Unsold clothes were donated to the residents of the Borisova Griva village.
We also participated in making the roads in Nokia safer for children together with a local association that organised a children's safety event. Nokian Tyres supplied Pirkanmaan Karting ry with three junior karts within the Flying Finn 100 youth sport campaign. Before the karting club juniors started training with the new vehicles, our employees' children got the opportunity to take them for a test drive.
Our units around the world organise various initiatives and take both small and large actions for a safer, more equal and better tomorrow.