Mon March 12 12:00 pm 2018 in category Company news
Nokian Tyres' 120th anniversary – From winter tyre inventor to world-class business
Nokian Tyres plc Press release March 12, 2018 at 12 p.m.
Nokian Tyres, the world's northernmost tyre manufacturer, is celebrating 120 years in business. Innovative products, a trusted brand and a commitment to serving customers have given the tyre pioneer a strong position on the market. Since 1898, the company has grown into a world-class business that looks to the future ready to tackle the opportunities provided by a changing world.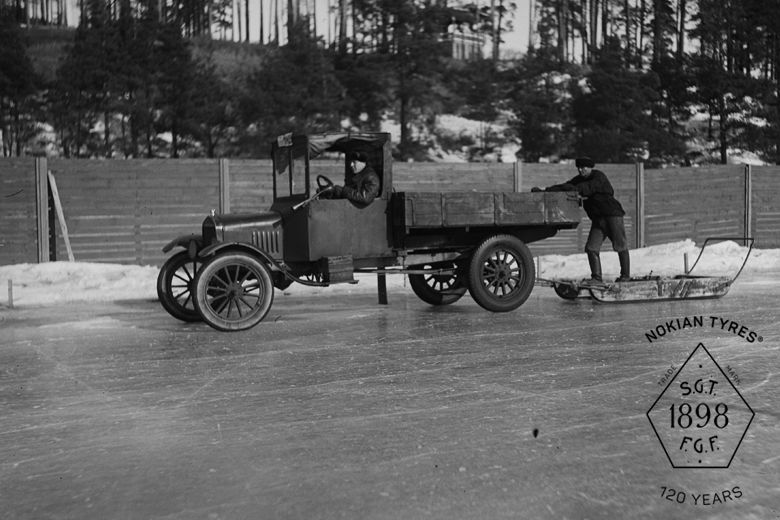 - We are proud of our roots and our strong heritage of technological leadership, high quality products and the Hakkapeliitta Spirit. As experts in challenging conditions, we have been promoting and facilitating safe transport for decades. This is a good foundation for building an even stronger success story together with our personnel, customers and partners, says Hille Korhonen, President and CEO for Nokian Tyres.
The stages of Nokian Tyres tell a powerful story of the history of the Finnish rubber industry. Established in 1898 as Suomen Gummitehdas Osakeyhtiö, the company manufactured galoshes, rubber seals, different types of hoses, police batons and, later, bicycle tyres. Car tyre manufacturing started in the early 1900s as the number of cars started growing.
The first real tyre industry breakthrough for Nokian Tyres took place in 1934 when the company developed the world's first winter tyre, the "Kelirengas". Two years later, the company manufactured the first Hakkapeliitta winter tyre, which opened the door for growth and the international market. Nokian Hakkapeliitta has been the leading winter tyre brand for over 80 years.
Renewing ourselves for the future
Today, Nokian Tyres is the most profitable company in its business; it employs 4,600 professionals worldwide and has net sales of some EUR 1.6 billion. The company's products are already sold in nearly 60 countries. Megatrends such as new forms of mobility, digitalisation and climate change are challenging the industry but also provide new, interesting opportunities for growth.
- We can only remain at the top of the industry through constant development and improvement. This means, for example, expanding outside of the traditional winter tyre market and investing in services that make it even easier to take care of your tyres. We intend to continue our systematic and sustainable work towards developing innovative solutions and retain our ability to quickly and flexibly adapt to the changes around us, Korhonen says.
Nokian Tyres is also modernizing its brand to honour the anniversary. The updated brand reflects the company's long history, sustainable operation and Scandinavian values.
Take a trip to the history of Nokian Tyres
View video: Nokian Tyres' 120th anniversary

Download photos of the history of the tyre industry pioneer
More information:
Nokian Tyres plc,
www.nokiantyres.com
Antti-Jussi Tähtinen, Vice President, Marketing and Communications, tel. +358 10 401 7940, [email protected]
Distribution: Media and www.nokiantyres.com