Thu July 11 03:02 pm 2019 in category Company news
Nokian Tyres' US Factory Produces First Test Tire
Nokian Tyres, July 11, 2019 – The company's North American production facility remains on schedule to begin producing tires for commercial use in early 2020.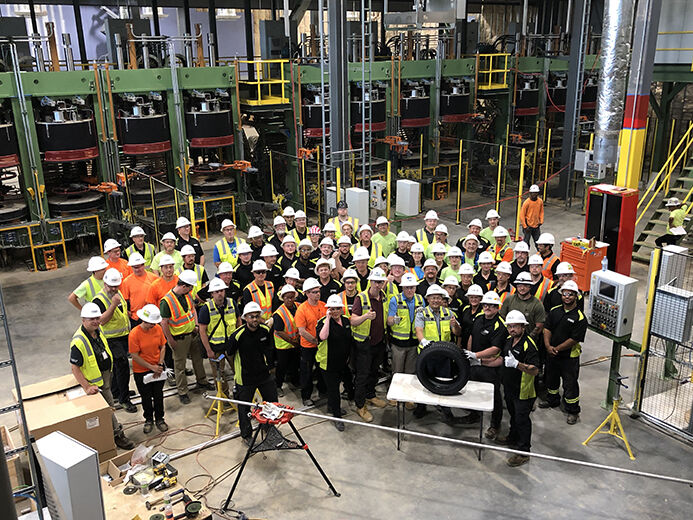 Nokian Tyres has produced the first test tire at its factory in Dayton, Tennessee, USA.
The first tire, a Nokian eNTYRE 2.0 in size 205/55R16, marks the beginning of trial production, as Nokian Tyres remains on schedule to start building tires for commercial sale in the early part of next year. The Dayton Factory will serve as a catalyst for Nokian Tyres' growth strategy in North America; the company aims to double sales in the region by 2023.
"The first tire milestone is significant for our production team, our employees throughout North America and our team around the globe," said Nokian Tyres Senior Vice President Mark Earl, who oversees the company's North American operations. "We're happy to share this news with our customers, who will benefit from the expanded product range and enhanced service the factory will enable us to offer."
Between now and the end of the year, Nokian Tyres will produce thousands more tires for testing and machine calibration purposes. Annual capacity at the factory will be 4 million tires in 2023, with further expansion potential.
The facility, an investment of $360 million, will allow the company to make premium products tailored to the needs of North American consumers, expand its customer base, and strengthen its relationships with existing customers.
Now that trial production is underway, Nokian Tyres will soon turn its attention to growing its team at the factory. The company currently employs approximately 70 team members. The company will employ approximately 400 people at the factory once capacity reaches 4 million tires.
The factory's production team recently returned home from an intensive six-week training experience at Nokian Tyres' other factories in Russia and Finland. The training trip immersed employees in the company's production processes and introduced them to its life-driven culture.
"We aren't just focused on building premium products; we also want to offer a premium experience for members of our team," Dayton Factory Operations Director Peter Chia says. "Simply put: We want to be the employer of choice in Southeast Tennessee."
Nokian Tyres plc
Päivi Antola
SVP, Corporate Communications & Investor Relations
For more information:
Mark Earl, Senior Vice President, tel. +1 629 401 4902
Additional material and requests:
Wes Boling, Marketing Communications Manager, tel. +1 629 204 0702